COVID-19:
Due to the current crisis we are temporarily changing our hours to Monday - Saturday 8:30-5:30
Welcome to Maple Ridge Veterinary Hospital
As we work to lessen the impact of COVID-19 in our practice, we ask that you please call us at 604-465-5421 in advance of any appointments or pick-up of prescriptions and food. Thank you!
Exceptional Veterinary Services
We offer a wide range of veterinary services. Come see what we can do for you.
Check Out Our Monthly Spotlight
May is senior pet month! Contact us to learn more about this offer.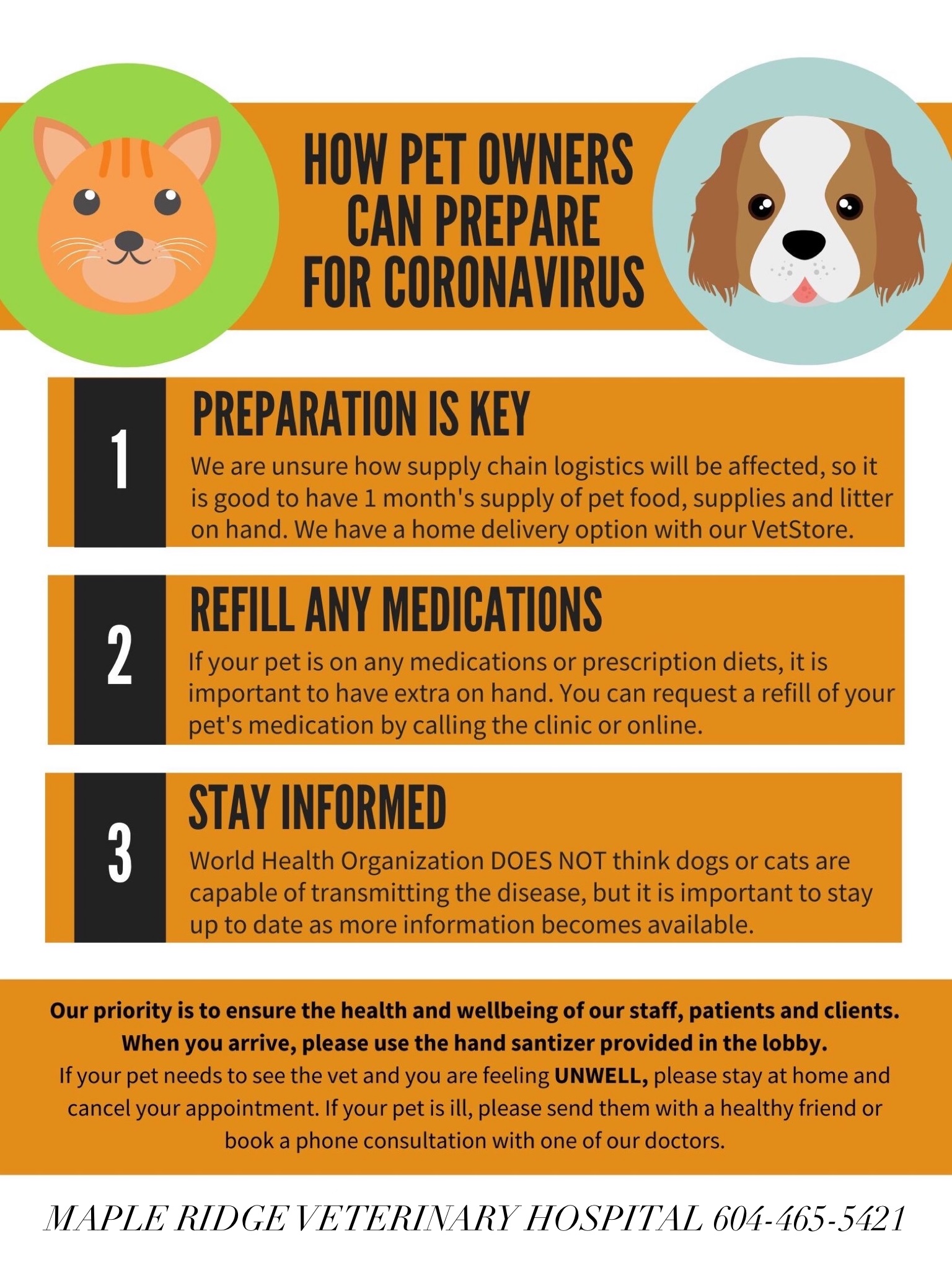 As the number of coronavirus cases grows across BC, we understand that many of you are concerned about your pets, as well as your human family. There is no need to panic, but we appreciate that it can be difficult to know where to get information. The following is simply to help educate on good practices. Please note that as more information becomes available and our understanding of the disease changes, recommendations may also change.
COVID-19 is a disease caused by a newly recognized member of the coronavirus family that appears to primarily infect humans. This particular coronavirus is spreading rapidly because humans do not have immunity built up yet. To slow the spread of the virus, it has been recommended to stay home if you are ill, disinfect surfaces, and wash your hands.
It is important to remember that there is currently no evidence that pets can get sick or transmit COVID-19 to people or other animals. However, there has been at least one case where a healthy dog tested positive after being exposed to an infected person in Hong Kong. If you have been diagnosed with COVID-19 and have a pet, it is recommended to avoid close contact with them, avoid coughing or sneezing near them, and limit your pet's contact with other people and animals by keeping them indoors during the quarantine.
At this time, we cannot test your pet for COVID-19, and it is likely not necessary. If your pet has a cough, fever, or is otherwise ill, there are many other things that are far more likely to be causing those signs.
𝗣𝗿𝗲𝗽𝗮𝗿𝗮𝘁𝗶𝗼𝗻 𝗶𝘀 𝗸𝗲𝘆! We recommend that you put together an emergency kit for your pets. It is a good idea to have one month's worth of pet food, prescription medication and supplies (such as kitty litter) on hand. We have a home delivery option available on our online VetStore (https://www.myvetstore.ca/)
If your pet has an appointment, but you (or someone in your household) is not feeling well, please do not come to the hospital. We would be happy to reschedule your appointment so you can stay home and take care of yourself. If your pet is ill, we recommend having a healthy friend bring them in, or arrange a phone consultation with one of our veterinarians. Alternatively, our GoFetch Health loyalty members can also use the vet support function to call or text a veterinarian 24/7 (https://www.health.gofetch.ca/).
Please help our team stay healthy by practicing good hand hygiene and by staying home if you're unwell.
𝗢𝘂𝗿 𝗽𝗿𝗶𝗼𝗿𝗶𝘁𝘆 𝗶𝘀 𝘁𝗵𝗲 𝗵𝗲𝗮𝗹𝘁𝗵 𝗮𝗻𝗱 𝘄𝗲𝗹𝗹𝗯𝗲𝗶𝗻𝗴 𝗼𝗳 𝗼𝘂𝗿 𝘀𝘁𝗮𝗳𝗳, 𝗽𝗮𝘁𝗶𝗲𝗻𝘁𝘀 𝗮𝗻𝗱 𝘁𝗵𝗲𝗶𝗿 𝗳𝗮𝗺𝗶𝗹𝗶𝗲𝘀.
Our Services
We offer a wide range of services in the Maple Ridge and Pitt Meadows area including medical, diagnostic, surgical, wellness and preventive health care needs for your pets.
Health Library
We're committed to providing you the latest pet health information. Our educational resources are available to help you understand your pet's healthcare needs.
Meet Our Team
Meet the caring and compassionate staff of Maple Ridge Veterinary Hospital. Our team is dedicated to the health and well being of your pet.
Serving Maple Ridge, Pitt Meadows, and surrounding areas since 1972, we strive to offer high quality and compassionate care for both you and your pet.
We are gladly accepting new patients!
Give us a chance to earn your trust. If you would like to bring your pet to our practice please fill out the New Client form below.
When you bring your pet in for the first visit you will be entered into our monthly New Client Appreciation Draw!